Race Day Guidelines - SHIVALIK ULTRA RUN
How to reach-
You may check details at
http://ultimatesurvivalcampsite.com/contact/
Add Location pin-
https://goo.gl/maps/emWVsoKvV3H2
Click here to view Route Map
Bib Collection-
Collect your bib and goody bag on Friday, 23
rd
Nov at the campsite from 3PM till 9PM.
Event Day-
24
th
November
Start time-
►
80Km Ultra Marathon, 1 ITRA point (cut off time 12hrs, one way 20Km, 2loops)- 5AM
►
50Km Ultra Marathon (cut off time 8hrs, first loop 40Km & second loop 10Km)- 7AM
►
30Km Run (cut off time 5hrs, u-turn at 15Km)- 9AM
►
50Km Ultra Walkathon (cut off time 12hrs, first loop 40Km & second loop 10Km)- 5AM
►
10Km Run/Walkathon (u-turn at 5Km)- 10AM
►
80Km Cyclothon (MTB required)- 7AM
Run in tough yet picturesque mountainous terrain, river Beas basin and negotiating elevation of 1500m plus
The route is properly marked and volunteers will guide you en-route. There are hydration station every 5Km, stocked with food required for ultra-runners, water, juice, banana/biscuits and first-aid box. Mobile hydration support is also available.
You may send your baggage containing clothes for change, supplements and medicines at designated stations through the advance team of crew.
Whatever items you handover at the stations will be given back to you at venue in the evening or whenever you need it during the event.
All the runners will get finisher's medal. Gala dinner party will begin at 7:30PM.
25th November, Breakfast- 9AM,
Photographers will be there to capture your precious moments while you are on the job.
Stay options-
Those who have booked for night stay at campsite, will be given preference over spot booking. There are portable bathroom units and tents with basic beddings. There are separate arrangements of tents for ladies and families.
Campsite can accommodate up to 200 people in tents on sharing basis and is optional, you may opt for hotel & lodges near Jwalamukhi temple (5Km from the campsite)
Weather & Clothing-
Weather in the morning from 5:00am to 7:30am is cold. Some of us may need hand gloves, full sleeve t-shirt and track pant/ shorts. If your body is not very sensitive to cold climate then you should be able to manage the run in shorts and half sleeve t-shirt. But do carry gloves, track pant/3/4th tights, full sleeve t-shirt/light jacket. Decide on the spot how much u need. Wearing multiple layers is also helpful in countering cold. Days are pleasant and slightly hot. Carry warm clothing for normal use. Nights are cold.
If coming by bus from Delhi, check if bus goes to Jwalamukhi via Chamba Pattan or Ghalour. If yes, get down at Jajwar/ lower Ghalour.
If bus doesn't go via this route then place is about 6.5 - 7 km from Jwalamukhi. You will get auto/ taxi from bus stand.
Cut off Limit for 80Km (5am to 5pm)-
Area becomes dark by 5:30 hrs. By that time run will be over. If you (80Km runners) are still on road and struggling to finish then you will picked from the course, even if you don't want to quit.
ITRA Point-
Check this
https://itra.run/race/2018/6123-shivalik-ultra-run/15277-80-km
Campsite Guidelines-
►
The facilities/ services available- including meals, snacks and boarding are only for those booked for it. Those who have not booked should not be using these services and facilities. All the participants are welcome to the Gala Dinner Party. All the participants will also be served post run meal/ lunch on 24th.
►
Keep trails, hills and surrounding clean and make the event, green events.
►
You may also check updates on
http://shivalikultra.coachravinder.com/race-day.html
Route Map-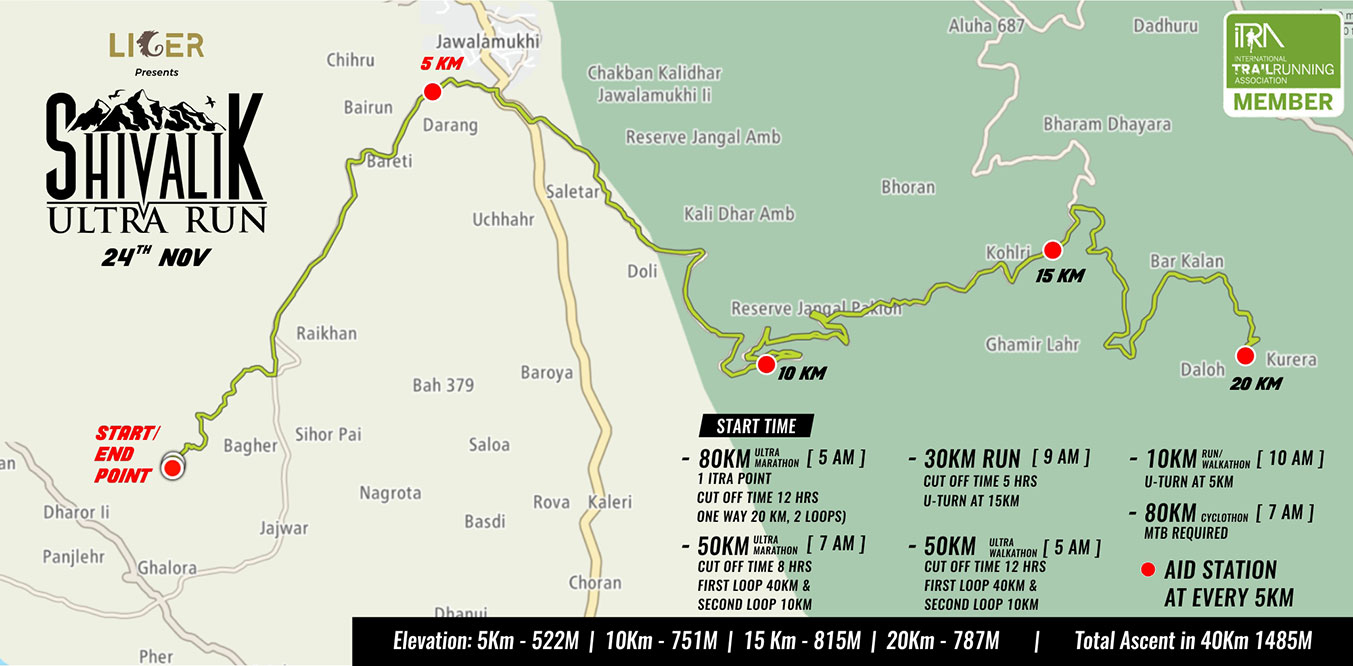 Registration link:
https://www.townscript.com/e/shivalik-ultra-run-2018-310242
Facebook:
https://www.facebook.com/events/172835720209759/